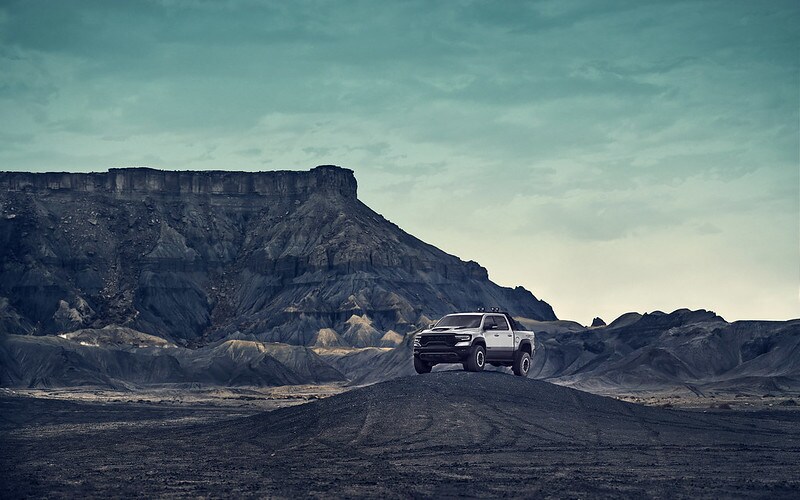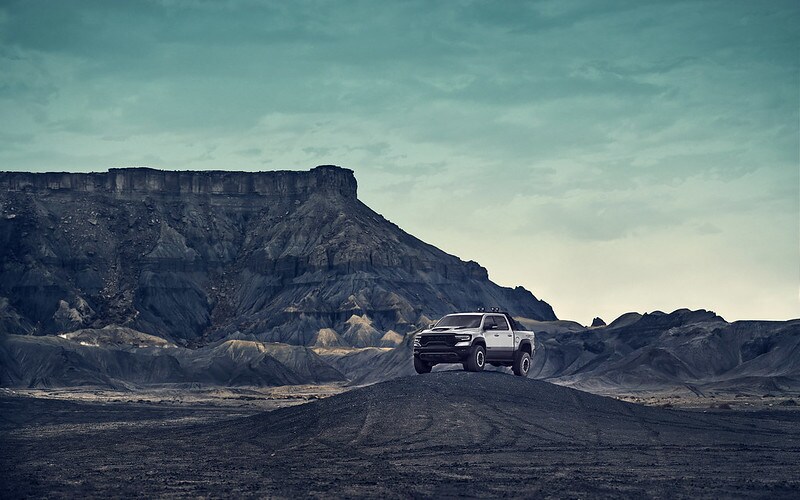 There's no shortage of reasons why you should consider a new Ram 1500 over a truck from Ford, Chevrolet, or another brand. When you put a Ram 1500 head to head with trucks like the F-150, Silverado, and Sierra, you can see why it practically stands in a class all its own.
Ram 1500 vs. Ford F-150
Ram 1500 has an innovative tailgate
For as much as Ford touts its F-150 as an innovator, it's a truck that still only has a tailgate that can go up and down. The new Ram 1500 beats the Ford F-150 in the back with its available multifunction tailgate, which features a 60/40 split swing-away design that opens up to 88 degrees. This makes it easier to access the bed for loading and unloading. And don't fret about capability - when used as a traditional tailgate, it can handle up to 2,000 pounds of weight.
Ram 1500 has more convenient cargo storage
Speaking of capabilities, only the Ram 1500 offers the class-exclusive RamBox® Cargo Management System, which adds lockable storage bins to the truck bed for convenience. You can use this feature to store tools and supplies for your workday or next fishing trip. And because it's lockable and drainable, you can even use it as a cooler. Plus, RamBox® offers a 115-volt auxiliary outlet to help you turn your Ram 1500 into a titan of tailgating. The Ford F-150 doesn't have anything like the RamBox® Cargo Management System - and neither does any other truck going today.
Inside the Ram 1500, you can also opt for a class-exclusive closable in-floor storage bin. These bins offer two tie-downs for improved cargo security, a 15-inch molded-in ruler for quick measuring, and space enough to support a four-inch drop hitch.
Ram 1500 has diesel power
Want a diesel truck? Ford doesn't have that anymore. While Ford dumped its Power Stroke, the Ram 1500 doubles down with its 3.0-liter EcoDiesel V6. Offering best-in-class torque at 480 pounds and a whopping 12,560 pounds of maximum towing capacity, it's no wonder Ford got out of the diesel game with the F-150 - it just couldn't compete.
Ram 1500 vs. Chevrolet Silverado 1500
Ram 1500 has off-roading mastered
Chevrolet is dipping its toes into the off-road game with the new Silverado 1500 ZR2. But Chevy will quickly find out that there's a much bigger fish in this pond: the Ram 1500 TRX. The TRX is the stuff legends (and weekends) are made of, offering Bilstein® Black Hawk® e2 shocks, 11.8 inches of ground clearance, and 35-inch Goodyear Wrangler Territory All Terrain tires. The Silverado ZR2 tops out at 11.2 inches of ground clearance and 33-inch rubbers. In a game of inches, the Ram1500 TRX is miles ahead.
Ram 1500 has a stronger engine
But where the Ram 1500 TRX really soars is under the hood. The Silverado ZR2 offers up a 6.2-liter V8 that puts down 420 horsepower and 460 lb-ft of torque. That would be impressive were it not for the fact that the TRX has a Supercharged 6.2-liter HEMI® V8 that delivers 702 horsepower and 650 lb-ft of torque. That's good for a 4.5-second 0-60-mph sprint, making it the fastest and most powerful production pickup truck currently on planet Earth.
Ram 1500 has parking assistance
The Ram 1500 also offers technology you just won't find in the newest Silverado. If parking is one of your least favorite things to do, the Ram 1500 makes it simpler and less stressful with available Parallel and Perpendicular Park Assist. Using this feature, the Ram 1500 will automatically steer itself into an available parking space. That means you can get that premium spot in front of your favorite restaurant, then climb out of a truck that's more stylish than the one with the bowtie.
Ram 1500 vs. GMC Sierra 1500
Ram 1500 has greater power
If you want a powerful light-duty truck, there's no better option than the Ram 1500, especially when it's pitted against the GMC Sierra 1500. With a range of engine options, the Ram 1500 can churn out a maximum 702 horsepower and 650 lb-ft of torque. The GMC Sierra 1500 reaches it maximum ratings of only 420 hp and 460 lb-ft of torque. This translates to more towing and hauling strength from the Ram 1500's gas-powered engines than from the Sierra's gas-powered engines.
Ram 1500 has exclusive tech
Speaking of towing, the Ram 1500 boasts a feature that you won't find on the Ram 1500: Trailer Reverse Steering Control. With this feature, you don't even need to use the steering wheel to park a trailer. Dial in the exact direction by turning this simple knob on the dashboard. It's an effortless way to guide your trailer to its precise parking position.   
Another class-exclusive feature on the Ram 1500 is the RamBox® Cargo Management System. This storage compartment within the tailgate can be used as a cooler, tool storage, or a power supply. It has a 115-volt auxiliary outlet for easy access at the worksite or tailgating party. You won't find this innovative tailgate storage on the Sierra.
Ram 1500 is more luxurious
The GMC Sierra markets itself as a premium truck, but the Ram 1500 actually claims the title of most luxurious truck in its class. How? The top-of-the-line Ram 1500 Limited offers more luxury features and materials than even the Sierra Denali. Lounge in the Natura Plus with Axis II Perforated leather seats with heating and ventilation functions. You'll find a class-exclusive reclining function on the rear seats and best-in-class 45.2 inches of rear legroom - both major perk for passengers. Let more light in through the dual-pane panoramic sunroof.
The new Ram 1500 topples other trucks in all different manner of ways, but the best way to appreciate its excellence is hands-on. Contact Cronic Chrysler Dodge Jeep® Ram in Griffin, Georgia, and set up your test drive.