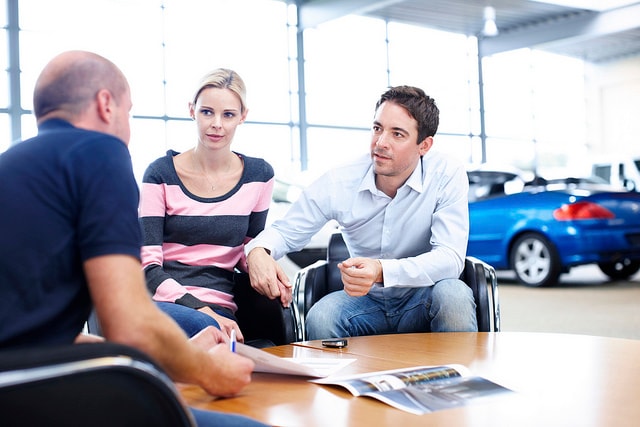 Should you buy or lease your next new vehicle?   
There are advantages and disadvantages to each, but ultimately whether you buy or lease depends on your particular situation. At Cronic CDJR in Griffin, Georgia, you can either buy or lease your new vehicle. We can give you all the information to make your best decision. Let's dive into the details.  
Advantages of Leasing Your New Vehicle
The first and usually most important advantage of leasing is that you can get more car, truck, or SUV for less money. This is because you're only leasing the vehicle for a limited amount of time, usually two or three years. Therefore, you only have to pay for that portion of the life of the vehicle.   

 

Not only do you pay less for the vehicle, but you pay less in sales tax. Since you are only buying a portion of the life of the vehicle, you are only responsible for the sales tax for that portion.   

 

Leasing your vehicle also reduces your repair costs. If you lease a new vehicle, all the manufacturer's warranties are in place. Any repairs will be covered under those warranties.   

At the end of a lease, all you have to do is turn the vehicle in. There's no trade-in haggling involved.  
The Disadvantages of Leasing
The biggest disadvantage of leasing is that at the end of the lease, you turn in the vehicle to the leasing company. The vehicle is not yours.   

 

Another disadvantage is that you're usually limited in the number of miles you can drive the vehicle each year. If you drive over the limit, there are specific penalties in the lease that will cost you money for every mile.   

 

When you turn in your leased vehicle, the leasing company typically has a representative do a thorough check of the vehicle. If the tires are worn, if there is damage inside or out, you are held responsible and will be faced with fees for excessive "wear and tear."  
The Advantages to Buying and Owning Your New Vehicle
When you buy a vehicle, it's yours. You can drive as many miles as you want or need each year, without the threat of mileage over-limit charges. And since it's your vehicle, you can do anything you want to it. If you don't like the wheels, you can change them. If you want to add graphics or window tint, you can add those too. You don't like the audio system that came with the vehicle? Then you're free to change it. You can change whatever you want or need to in your own vehicle.    




Another important financial advantage is that the equity in the vehicle is yours. So, when it comes time to get a new vehicle, you can trade-in your old vehicle and have that equity applied against the price of your new vehicle.   

 

Along the same lines, if you finance your vehicle, when you've made all the payments, you still retain that vehicle, unlike a lease that you have to turn in at the end of the leasing contract. You get the full value of your vehicle when you buy it.  
The Disadvantages to Buying Your Next New Vehicle
There are downsides to vehicle ownership. Chief among them being that when the new vehicle warranties are over, you are responsible for all repairs.   

 

Because you are buying the vehicle for its entire life, it will cost you more than a lease, in which you only buy a portion of the vehicle's lifespan. This is also true for sales tax. You have to pay more when you buy.  
Find Your Best Car-Shopping Option at Cronic CDJR in Griffin, GA
As you can see, buying and leasing a new vehicle comes with upsides and downsides. Which ones affect you most depends on if you're trying to save money in the short term or over the long term. Also, if you want more vehicle for your money.   

 

At Cronic CDJR in Griffin, Georgia, we can guide you through the maze that exists when deciding whether to buy or lease your new vehicle.   

 

Whether you want to buy or lease, or haven't yet figured out which way to go, come to Cronic Chrysler Dodge Jeep RAM. We can get you the new vehicle you want, at the price you can afford!  




Make an Inquiry
* Indicates a required field